2022 Kenya Elections Breathtaking Events
2022 Kenya Elections Breathtaking Events: On 9th, Aug 2022
What happened during Kenya Voting Day, Evets during Kenya General Election Day 2022, why was voting in Mombasa postponed, The missing election ballots,2022 Kenya Elections Breathtaking Events, Kenya election, William Ruto, Raila Odinga, Uhuru Kenyatta, Kenya, East Africa
Kenya General elections Took place peacefully on the election  day, we pray the peace to be hold even in the results announce day. This articles gives you stunning events that occurred during the election process in various polls in Kenya.
2022 Kenya Elections Breathtaking Events
Kenyans went to the polls on Tuesday to vote in a presidential contest between Deputy President William Ruto and opposition leader Raila Odinga.
Kenyans cast ballots to choose a new parliament, county officials, and their fifth president. In the final polls, Vice President William Ruto and opposition leader Raila Odinga were tied.
Track Kenya Election Votes Count HERE
(2022 Kenya Elections Breathtaking Events)
Voting in Mombasa postponed on 9, Aug 2022
Even though the Electoral Commission announced yesterday's vote for governor would be cancelled due to what it called "printing errors," Mombasa voters are still in long lines.
By 8 am, a few polling places still hadn't started the election, which was supposed to start at 6 am. Voters began shouting and demanding the opening of polling places as tempers were fraying.
(2022 Kenya Elections Breathtaking Events)
Tempers were running hot as some voters started shouting and demanding the opening of polling stations.
The missing election ballots
After the electoral body postponed the parliamentary vote in the constituency due to missing ballots and boxes, voters in Rongai, Nakuru County, protested. There are anti-riot police on duty.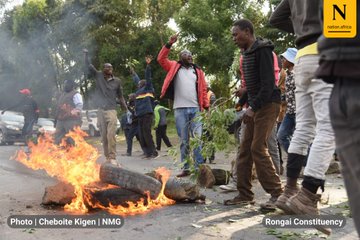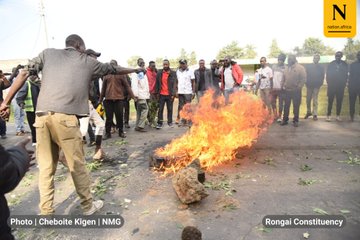 A 56 percent voter turnout
Just over 12 million Kenyans, or 56 percent of eligible voters, have cast ballots thus far, according to the IEBC. Manual registers and those who are still in lines are not included in this number.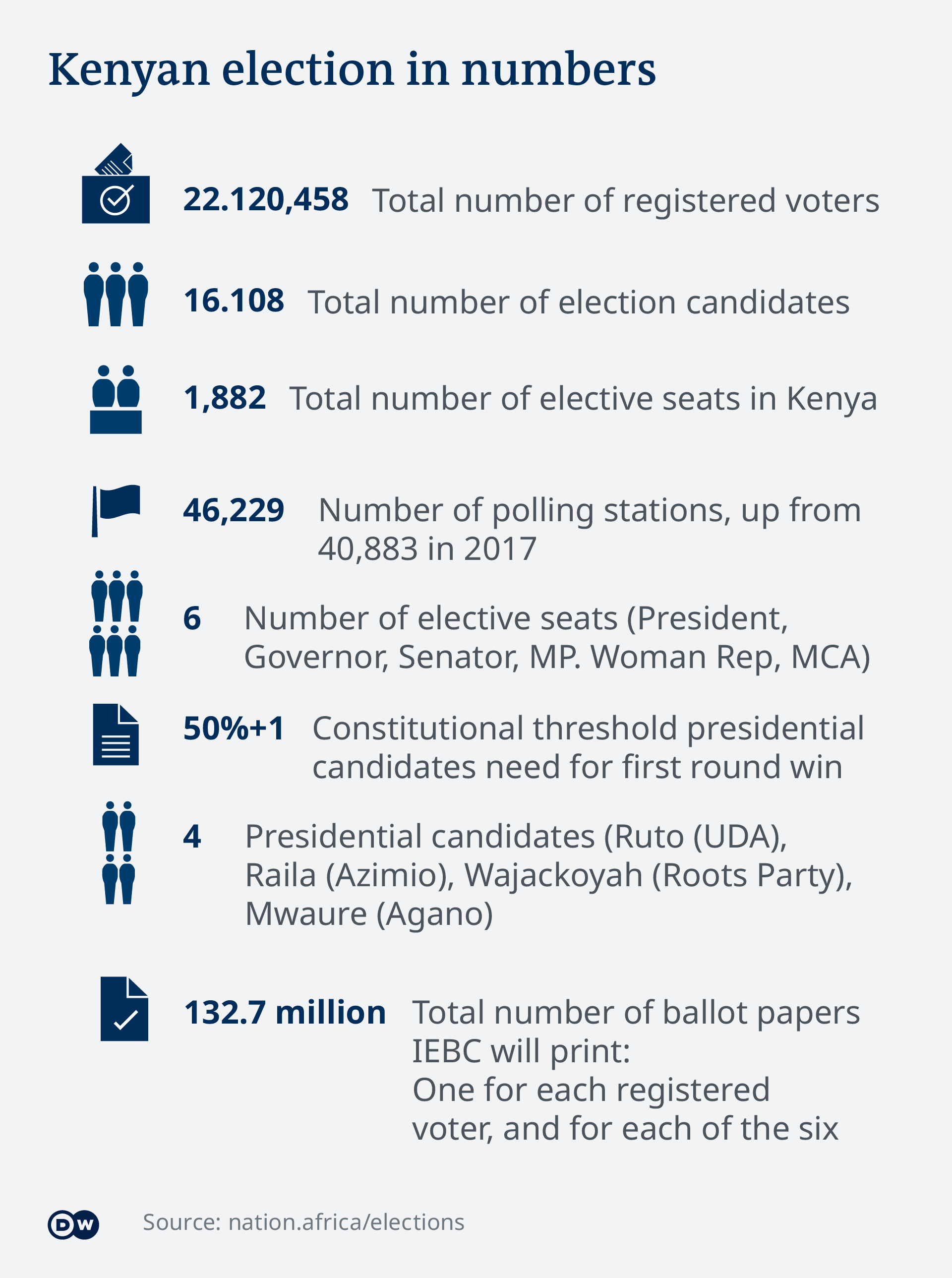 2022 Kenya Elections Breathtaking Events 
Elections Polls Close Time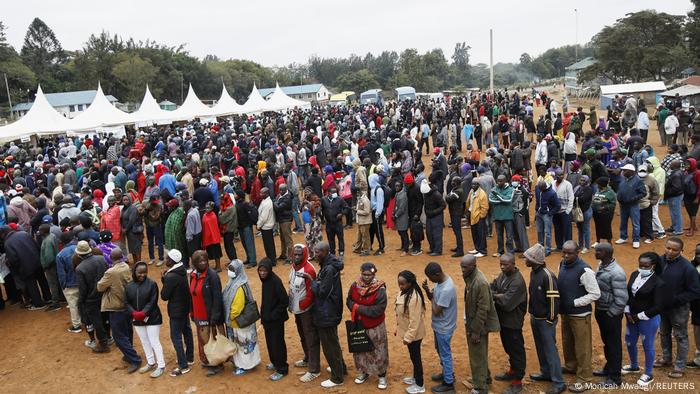 After 11 hours of voting, many polls were closed at 5 o'clock local time. However, the IEBC reported that in some places where there were delays, the voting hours had been extended. The focus now shifts to tallying and counting the votes. The initial outcomes are anticipated soon.
Arrests over malpractice | Arrests for irresponsibility
In Kilgoris, Narok County, three police officers and one civilian have been detained for transporting marked ballot papers. For transporting unsealed election materials, two additional people were detained in Nairobi County's Imara Daima.
The MP for Nakuru East, David Gikaria, was also taken into custody for allegedly attacking a polling place.
In addition, when they staged a protest at the Tudor village polling place against claims of vote fraud, Omar Shallo, a parliamentary candidate for the United Democratic Alliance (UDA), and Samor Bhalo, a candidate for Tudor Ward, were detained by police.
Read Also About Kenya General Election 2022: The Challenges and Prospects
2022 Kenya Elections Breathtaking Events cont….
KIEMS malfunctions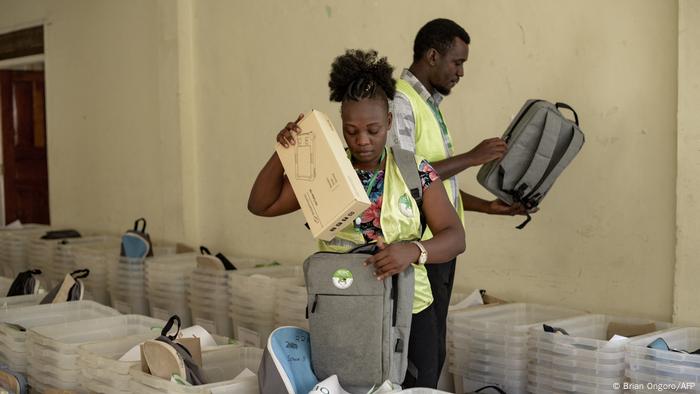 When KIEMS biometric kits malfunction, Azimio la Umoja, the political coalition led by Raila Odinga, demanded that the electoral body use the manual voters' register.
Azimio demanded that the law's 11-hour window be adhered to by officially announcing the extension of voting hours and releasing a list of all polling places where voting has yet to start.
Following the widespread failure of KIEMS kits, the electoral commission has authorized manual voter registration in the Kibwezi West, Malaba, Matungu, Mumias West, and Mumias East Constituencies, as well as Makueni County. " 200 failure reports regarding the KIEMS kit have been submitted. The failure is not pervasive "Justus Nyang'aya, commissioner of the IEBC, said.                                                                  (2022 Kenya Elections Breathtaking Events)
"Technology does malfunction, but there are solutions available to us, and we have taken those steps."
We anticipate that one or two systems may malfunction, but this does not necessarily indicate a systemic issue.
Wajackoyah fails to cast a ballot
Prof. George Wajackoyah unable to vote as Kiems kit at his polling station fails #KenyaDecides2022 #KenyasChoice2022 #JustVoted pic.twitter.com/a3UrOIfTDe

— Citizen TV Kenya (@citizentvkenya) August 9, 2022
George Wajackoyah, a candidate for president, was unable to cast a ballot because the KIEMS kit used by the Independent Electoral and Boundaries Commission at his polling place did not identify him.
The gadgets have a biometric voter registration system that electronically records voters' fingerprints, facial images, and personal information. Nationally, 55,100 KIEMS kits have been distributed.
Outgoing President Uhuru Kenyatta has cast his ballot during Kenya's general election at the Mutomo primary school polling station in Kiambu. Uhuru Kenyatta, the outgoing president of Kenya, voted in the country's general election at the Mutomo Primary School polling place in Kiambu.          (2022 Kenya Elections Breathtaking Events)
Ruto and Mwaura vote early
William Ruto casts his vote at Kosachei Primary School in Turbo, Uasin Gishu.
Agano Party presidential candidate David Mwaura Waihiga cast his vote at Upper hill High school, Nairobi.
(2022 Kenya Elections Breathtaking Events)
Presidential candidate Odinga casts vote
Presidential candidate Raila Odinga has cast his vote at the Old Kibra Primary School polling station in Nairobi.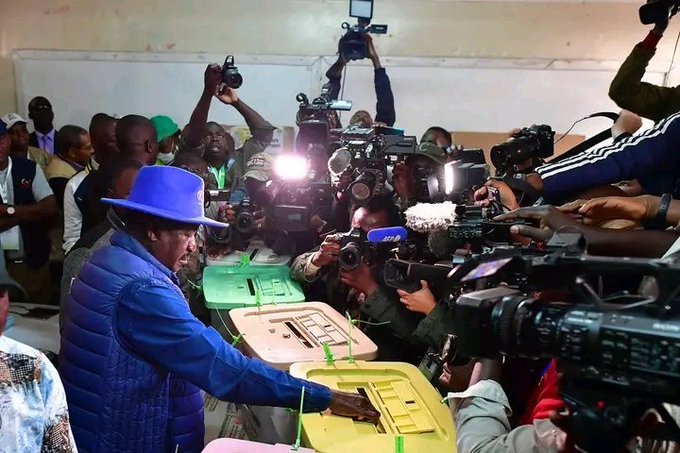 The Smallest Number of Candidates
Four candidates were approved to run for president from a preliminary shortlist of 17, the fewest since multiparty democracy started in the early 1990s. Uhuru Kenyatta, the incumbent, has served two terms and is ineligible to run again.
Veteran opposition figure Raila Odinga, 77, is running as part of the Azimio la Umoja (Quest for Unity)-One Kenya Coalition and is now supported by longtime foe Kenyatta. The former prime minister unsuccessfully ran for president on four occasions, in 1997, 2007, 2013, and 2017.                        (2022 Kenya Elections Breathtaking Events)
Before taking on the role of deputy president in 2013, William Ruto, 55, worked as a lawmaker and as the minister of agriculture. The aspirational politician from humble beginnings is running for the United Democratic Alliance (UDA), promising to stand up for "hustlers" just trying to get by. The race for the presidency is close between Ruto and Odinga.
George Wajackoyah, a 63-year-old eccentric lawyer and former spy who grew up on the streets of Nairobi, is running for the Rastafarian-inspired Roots Party. He has pledged to legalize marijuana as well as export hyena testicles and snake venom to China.
Senior attorney and ordained minister David Mwaura, 65, is a candidate for the Agano Party (Swahili for "covenant" or "promise").
(2022 Kenya Elections Breathtaking Events)
Security Consideration
About 150,000 officers have been deployed to ensure the safety of the polls, police chief Hilary Mutyambai said. Polling day has been declared a public holiday, schools have been ordered closed until Wednesday, and supermarkets have urged people to stock up.
Votes counting started immediately
In some polls just after the voting process closing the count started.
Voting process and Kenya elections 2022 live updates
To win the presidential race in the first round, a candidate needs:
more than half of all the votes cast across the country
at least 25% of the votes cast in a minimum of 24 counties.
Voters also were choosing MPs and senators to go to the national parliament, county governors and county assembly members, as well as 47 women's representatives to sit in the National Assembly.(2022 Kenya Elections Breathtaking Events)
On election day, voters had their fingerprint scanned to check their identity but a printed register can also be used if the machines fail.
Each voter was then be given colour-coded ballot papers for each of the elections, which they will mark in a private booth and drop in the relevant ballot boxes
Read Also About Kenya General Election 2022: The Challenges and Prospects
2022 Kenya Elections Breathtaking Events 
When will be the Release or the kenya presidential election Results 2022?
Results are due to be announced no later than August 16. Any second-round runoff, which would be a first in Kenya's history, must be held within 30 days. If no candidate files a challenge to the results with the Supreme Court, the winner takes office two weeks after the final results are announced. But if the court orders an annulment, a new vote must be held within 60 days.
Kenyans casted their ballots in a hotly contested presidential election
In a historic decision in 2017, the court declared Kenyatta's win null and void after a petition by his rival Odinga because of widespread "irregularities and illegalities" in the counting process and mismanagement by the Independent Electoral and Boundaries Commission (IEBC). However, the incumbent went on to win the rematch after an opposition boycott.
Track Votes Count HERE