There are a few Discord settings you should change when you first join Discord, and you can use a variety of rich media to make posts even more engaging.
If you're reading this, I'm willing to bet that you're a part of several online communities. Whether it's a gaming community, a specific video game chat platform, or something else entirely, there are many different ways to connect with people from all over the world.
Discord is one of those communities that has grown in popularity over the past couple of years. It's an application designed for gamers and other people who want to talk about their favorite games while playing them or before/after doing so. You can use Discord to keep in touch with friends via text, voice, and video calls.
There are also numerous third-party integrations available. For example, you might have connected your Twitch stream so that anyone watching can see when you go live on Discord (this means you can abandon your webcam!).
If you want to learn more about the service and how to set up your account, read on – we have everything you need right here!
How To Set Up Discord
If you want to use Discord, you'll need to create a free account. There are a few options for how to do this.
You can go to their website and sign up with your email address and password.
Alternatively, you can download the Discord app and create an account that way. Once your account is set up, the first thing you'll want to do is customize your Discord settings.
These consist of things like your push notifications, what you see in each channel, and which apps you have connected to.
Manage Your Discord Account Settings
Discord account settings
First, let's talk about Discord account settings. This is where you'll go to change every aspect of your Discord experience. We'll walk you through how to do that below.
Click the "Settings" tab located in the top-right corner of Discord. You'll see a drop-down menu that displays a variety of options for how to change your account.
Click "Account" this will open a new window with your Discord account settings.
There are several different settings that you might want to toggle. Here are the most important ones.
Push Notifications Settings
You can choose to turn off all push notifications or just the Sounds and Desktop Notifications. Be careful with these as they can get annoying quickly if you have them turned on 24/7.
Sound Settings
This is where you can change your Discord volume. You can also mute or unmute specific channels if you need to.
Appearance Settings
This is where you can change your Discord font, color scheme, and avatar. It's also where you can turn off the Discord dark theme if you prefer the default look.
Connections settings
Here you'll find a list of any apps you've connected to Discord. You can disable any of these if you don't want to use them anymore.
How To Turn On Voice Chat
You can get by on Discord without ever using voice chat. But if you engage in voice communication with others, it can make the experience a lot more fun. Voice is an optional feature on Discord, so you don't have to use it if you don't want to.
The ability to use voice chat is determined by a feature called "Voice Tier". You can find your Voice Tier level in Discord account settings.
If you want to use voice chat, you'll want to make sure that your Voice Tier is set to "Full".
If you want to use the "Nice" tier, you'll need to be friends with the person(s) you want to talk with.
How To Install The Dark Theme
The Discord dark theme is finally here! It was first tested out in late 2018, and now it's available to everyone.
If you prefer the dark theme, you can turn it on in your Discord account settings. You can also turn on the dark theme for specific channels.
To do this follow the steps bellow
Click the three dots in the top-right corner of the channel you want to change,
Select "Channel settings" and
Toggle the "Use Dark Theme" setting.
Mute Channels You're Not Interested In Or Don't care About
If you're in a large Discord server, there's a good chance you'll see a few channels that you're not interested in. For example, most servers have a channel for general chat.
You might not want to see everything everyone is saying. Fortunately, it's easy to mute channels you don't care about.
All you have to do is
Click the three dots next to the channel name
Select "Mute Channel" and choose how long you want to mute it.
You can also mute multiple channels at once by
Clicking the three dots,
Selecting "Mute Channels" and
Choosing which channels you want to mute.
Enable Read Receipts and Invisible Mode
Read receipts are a feature that many people use on Discord. They let people know when you've read their message. It's a way of showing that you're interested in what they've said, even if you don't respond right away.
If you want to turn on read receipts, you'll need to enable them in your Discord account settings. There's also an "invisible mode" that some people like to enable when they don't have time to respond to every message.
If you enable invisible mode, people will see that you're there, but they won't be able to send you any messages. This is a great way to let people know that you're busy without being rude.
Change Your Audience Setting
One of the first things you'll notice is that there are two different audience settings.
You can select "Public" or "Private" for those who can see your Discord server name.
You might be wondering why anyone would ever choose to keep their Discord server private.
Depending on the type of server you run, you might not want everyone to know about it.
You might be hosting a server for your family or a small group of friends. Or, you might be managing a server for work and want to keep it private to avoid distractions.
How To Join Discords You're Interested In
One of the best ways to make friends on Discord is to join a Discord server that interests you. Discord servers are shared communities where everyone has an equal say in what happens.
Every server has a different set of rules. Some are very strict, while others are a little more relaxed.
It's always a good idea to read the rules before joining a new Discord server. There are two ways to search for new Discord servers to join.
You can go to discordapp.com/discord-servers and type in keywords that you're interested in. Or
You can click the plus icon in the top-right corner of Discord, select "Add Server" and follow the instructions on the screen.
Use Rich Content Markups (RCM)
One of the best Discord features is how easy it is to share videos, articles, and other types of media. You can easily post images, GIFs, and other types of media to your Discord server, but you can also send them directly to other users.
All you have to do is click the plus icon and select "Send File". You can also post rich media from third-party websites like YouTube, Reddit, and others.
All you have to do is highlight the text, click "RCM" and select the website you want to post from.
Other Discord Settings
Disabling My Account
This is one of the Discord Settings.
If you'd like to disable your account instead of deleting it, you can do that too!
Head over to your User Settings and click Disable Account under Account Removal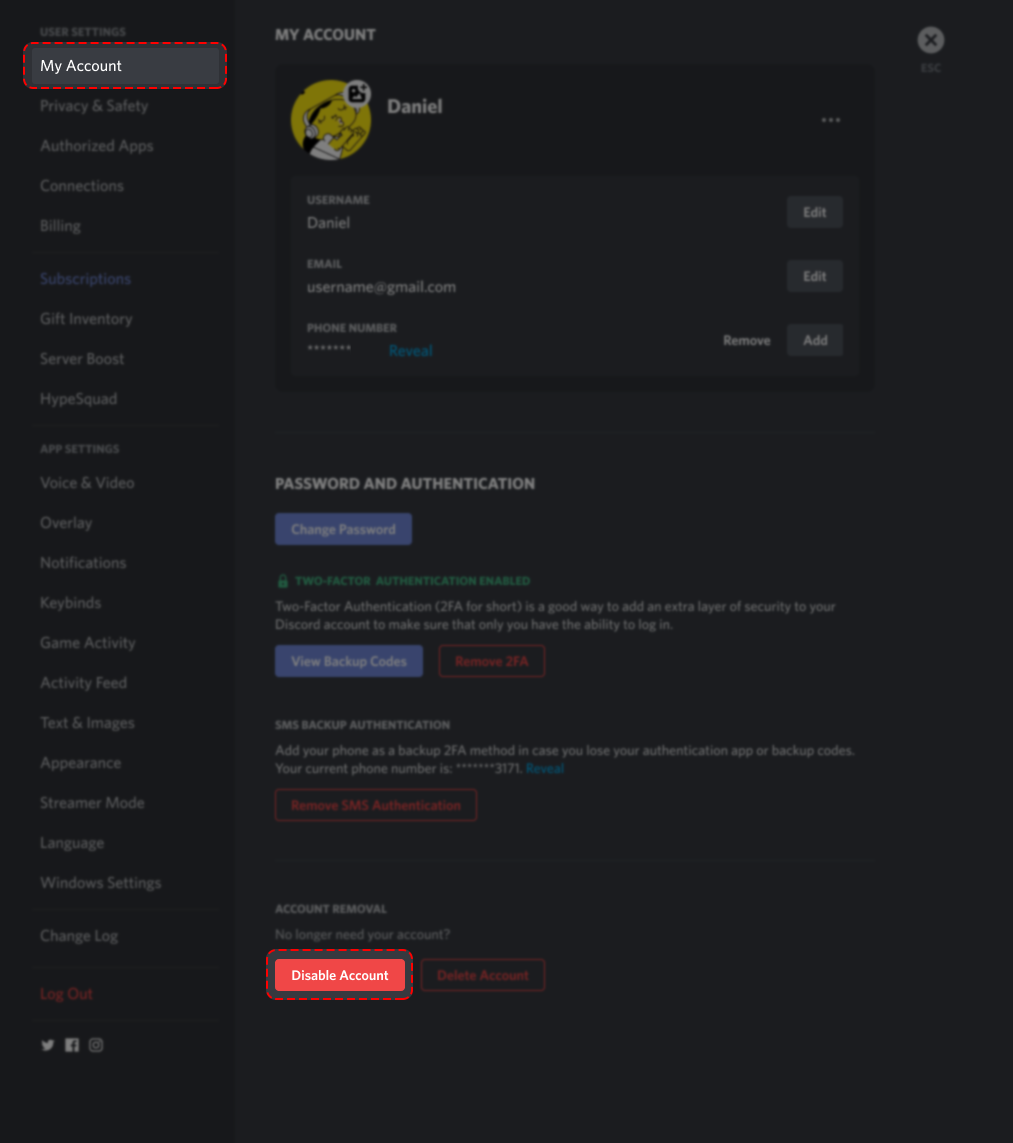 What's the difference between disabling and deleting your account?
Disabling your account means your account is put on hold. You can reactivate it by logging in and following the prompts. Keep in mind that accounts that are inactive for 2 years are deleted, so if you want to keep yours, you'll need to reactivate your account (but you can disable it again after this if you like).
When you disable an account you will no longer receive any @notifications from Discord. However, you can still get friend requests and any friend requests that you receive while your account is disabled will be waiting for you when you re-enable your account.
When you choose to delete your account, the account will be permanently deleted (after a bit of time). It's irreversible!
If you think you may want to come back to Discord at a later date, we suggest disabling your account rather than doing a complete deletion!
Wrapping up
Discord is a great platform for connecting with people from around the world. It's free to use and available on both desktop and mobile.
At its core, Discord is a voice, video, and text chat app. It's designed with gamers in mind, though—so much so that it's become the de facto communication app for gamers both professional and amateur.
Discord Has several Features. Read more>>>
There are a few Discord settings you should change when you first join Discord, and you can use a variety of rich media to make posts even more engaging.
If you're not already a part of the Discord community, now is a great time to join!
Discord App Download 
Click HERE To Download for Windows
Click HERE To Download for MAC
For Android Download here
For iOS Download here
Tags: Discord App Download, discord feature, How to disable my discord account, How to use Discord App