Kikosi Cha Simba kinachoanza vs KMC 07/09/2022: Starting lineup
Kikosi cha Simba SC vs KMC 7 Sept 2022 Line Up, KIKOSI Cha Simba vs KMC FC September 07 2022, KMC vs Simba, Kikosi cha Simba dhidi ya KMC leo, Simba vs KMC, Kikosi cha Simba mechi ya leo, Kikosi cha Simba vs KMC 2022 Line Up Simba vs KMC Leo, Kikosi Cha Simba kinachoanza vs KMC, Simba Sports Club Squad lineup.
This article is a sport based article that gives list of KIKOSI Cha Simba vs KMC FC September 07 2022 and will update the lineup just few minutes before the kickoff.
Today on September 7, 2022, at 19:00 UTC+3, Simba SC and KMC FC will face off. The game is a NBC Premier League contest. Simba SC will be the host in today's match against KMC F.C.
Will Simba SC maintain its level of play and maintain its perfect league record while playing in this game under the supervision or management of the assistant coach? Let's wait for the 90th minute to end before deciding the answer to this query.
Simba SC is currently in first place, while KMC FC is in position twelve.
See Also Ratiba ya mechi za Simba Sport club 2022 to 2023
Kikosi Cha Simba kinachoanza vs KMC 07/09/2022: Squad Line up
Ally Salim (1)
Jimmyson Mwanuke (21)
Gadiel Michael (2)
Nassor Kapama (35)
Henock Inonga (29)
Israel Patrick (5)
Pape Sakho (10)
Augustine Okrah (27)
Dejan Georgijevic (7)
Clatous Chama (17)
Peter Banda (11)
Wachezaji wa Akiba Reserve
Ahmed Feruzi (31), Nelson Okwa (8), Moses Phiri (25).
Where will the match take place?
The match will be played at Benjamin Mkapa stadium in Dar Es Salaam city.
Stadium : Simba Sc vs KMC 7 September 2022
Tanzania National Main Stadium, commonly known as Benjamin Mkapa Stadium, is a multi-purpose stadium in Dar es Salaam, Tanzania, located in the Miburani sector of the Temeke District. It was built next to Uhuru Stadium, the old national stadium, and opened in 2007. It hosts big football matches such as the Tanzanian Premier League and the Tanzania national football team's home fixtures.Kikosi Cha Simba kinachoanza vs KMC
With 60,000 seats, it is Africa's eighth biggest stadium and Tanzania's largest. The Tanzanian government owns it. Beijing Construction Engineering Group built the stadium for $56 million.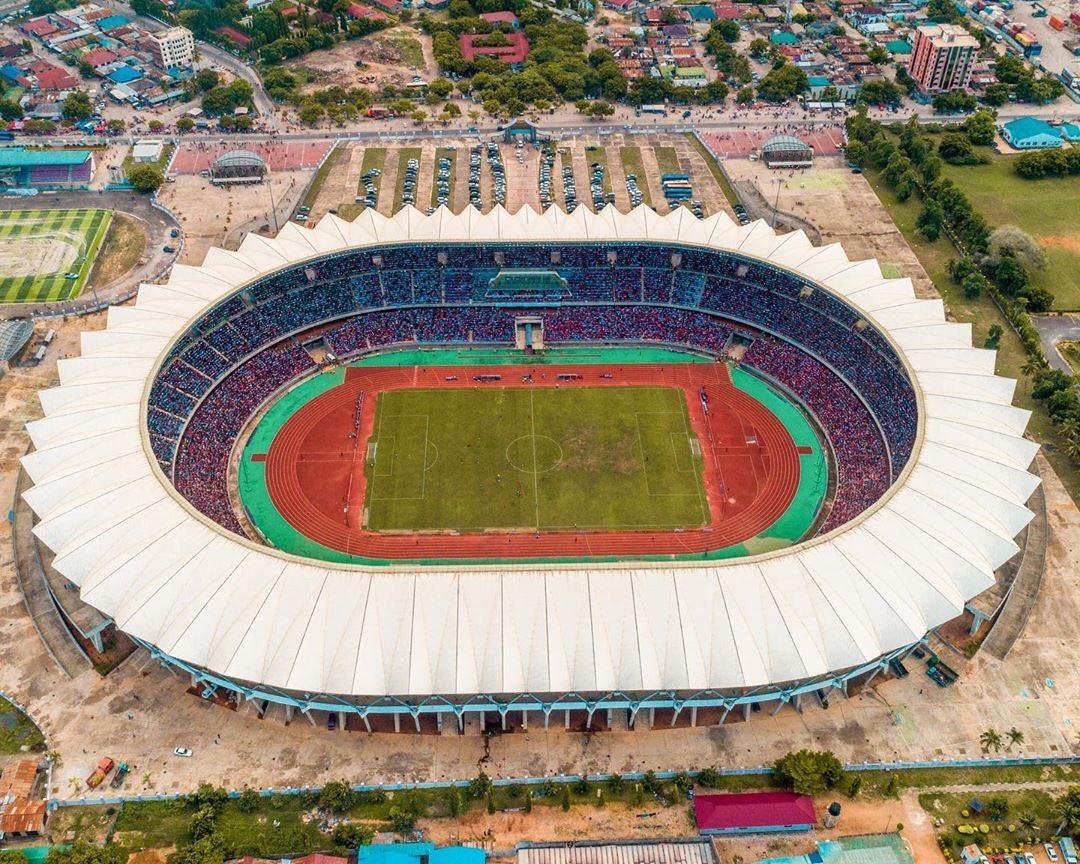 The stadium in Dar es Salaam was packed for the inaugural derby between Simba S.C. and Young Africans S.C. in 2008.Both teams' other league fixtures often draw poor crowds.
Simba and KMC Last matches performance
Time : Simba Sc vs KMC September 7,2022
The match between Simba Sports Club and Kinondoni Municipal Council Football Club will be played at the Benjamin Mkapa National Stadium starting at 1900 Hours East African Time
About Simba
Simba SC have triumphed in a total of 21 league competitions, as well as five domestic cup competitions, and have competed in the CAF Champions League on many occasions. They have also won the CECAFA Club Championship a total of six times, making them one of the most successful clubs in East African football.
Kikosi Cha Simba kinachoanza vs KMC
The Benjamin Mkapa Stadium is where the Simba play all of their home games. Simba's Instagram account had 1.9 million followers in 2022, representing an increase of 89% from the previous year. This made it the football club with the most rapidly expanding account on Instagram.
The club has a total budget of Sh 6.1 Billion (which is equivalent to $5.3 million) for the 2019/2020 season, making it one of the richest in East Africa.
Kikosi Cha Simba kinachoanza vs KMC
See Also
Simba SC vs Al Hilal 31 August 2022 Live Results Updates
MATOKEO SIMBA SC VS ASANTE KOTOKO 28 AUGUST 2022 RESULTS