Check out which player will be enlisted in the starting lineup for Mamelodi Sundowns vs Maritzburg United through our expert's lineup preview outlines.
Mamelodi Sundowns will face Maritzburg United in the Premiership on 16 May 2023 at 17:30 UTC at Loftus Versfeld Stadium, Tshwane/Pretoria City.
One match this season saw Maritzburg United lose to Mamelodi Sundowns, currently ranked first and announced as the 2022/2023 winners, while Maritzburg United is 16th.
Preview: Lineup for Mamelodi Sundowns vs Maritzburg United
This preview will pass you through the key players to watch from both teams.
The key players to watch in the Mamelodi Sundowns line-up:
There is a formidable line-up at Mamelodi Sundowns, with players who have played at the highest level.
R. Williams provides a strong pair of hands and excellent distribution skills in goal. In addition to providing defensive stability, A. Modiba also contributes to flank attacks.
T. Mokoena is a key player in the Sundowns' midfield due to his passing range and creative flare, while Andile Jali provides energy and tenacity.
Sundowns' attack will be led by Peter Shalulile and T. Morena, who can score from anywhere on the pitch. T. Zwane can also play forward.
If they play their best, Mamelodi Sundowns can break down any South African defense with ease.
The key players to watch in the Maritzburg United line-up
The Maritzburg United team, located in the KwaZulu-Natal Province of South Africa, has been a consistent contender in the South African Premier Soccer League (PSL) for several years.
A great example of this is goalkeeper R. Leaner. He has proven himself to be one of the best goalkeepers in the PSL since he played between the sticks for Maritzburg United. In Fadlu Davids's squad, his agility, reflexes, and ability to command his area make him an essential member.
A promising young midfielder, T. Graham possesses excellent ball-control skills and can read the game well. He combines well with fellow midfielder G. Palace to create scoring opportunities.
In terms of forwards, K. K. Karim leads Maritzburg United's attack along with A. Soukouna. He is expected to score the most goals for his team next season due to his performance and shooting accuracy.
Although Maritzburg United may not be considered one of the league favorites, their solid lineup features some exceptional talent across all positions.
The lineup for Mamelodi Sundowns vs Maritzburg United Today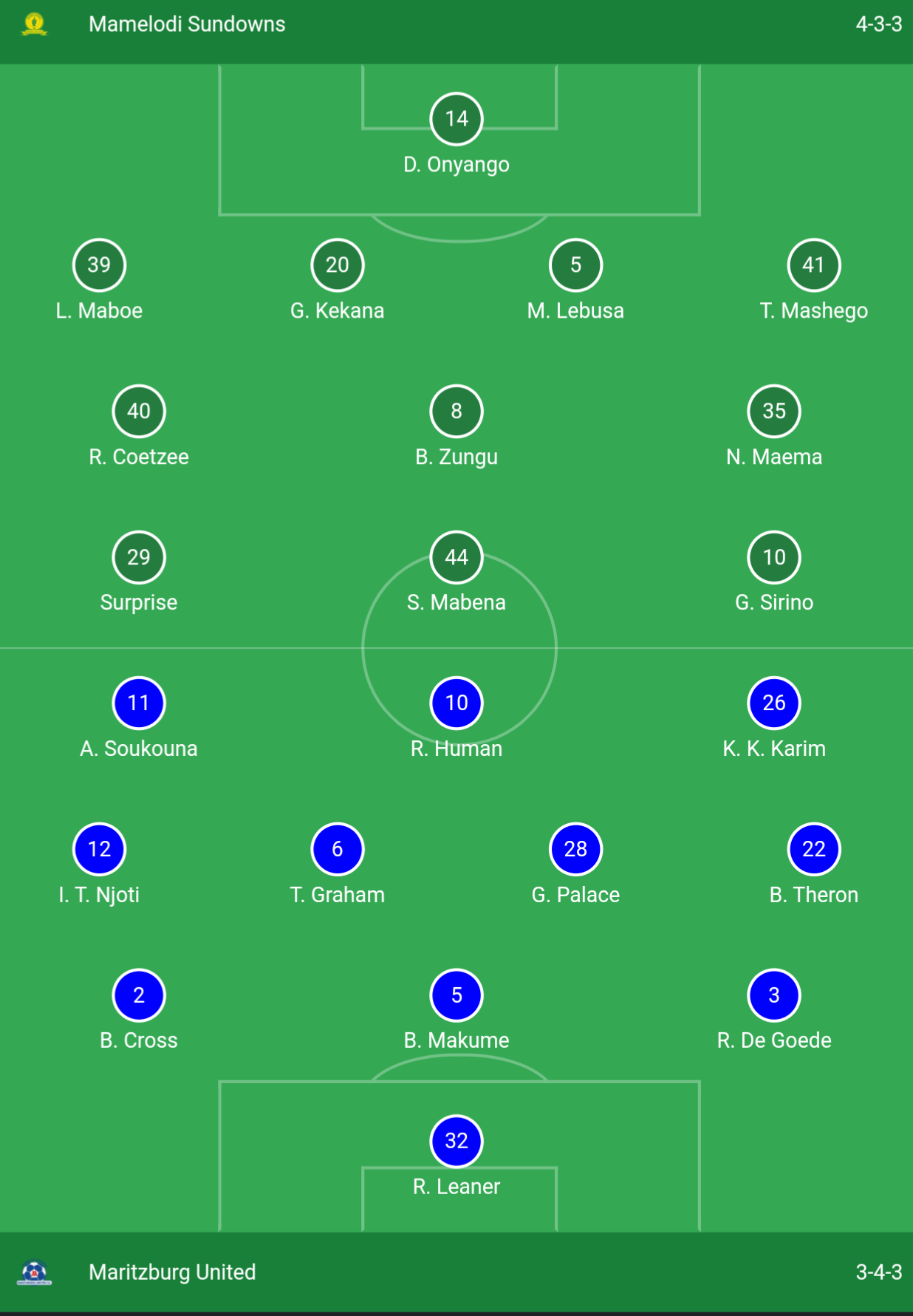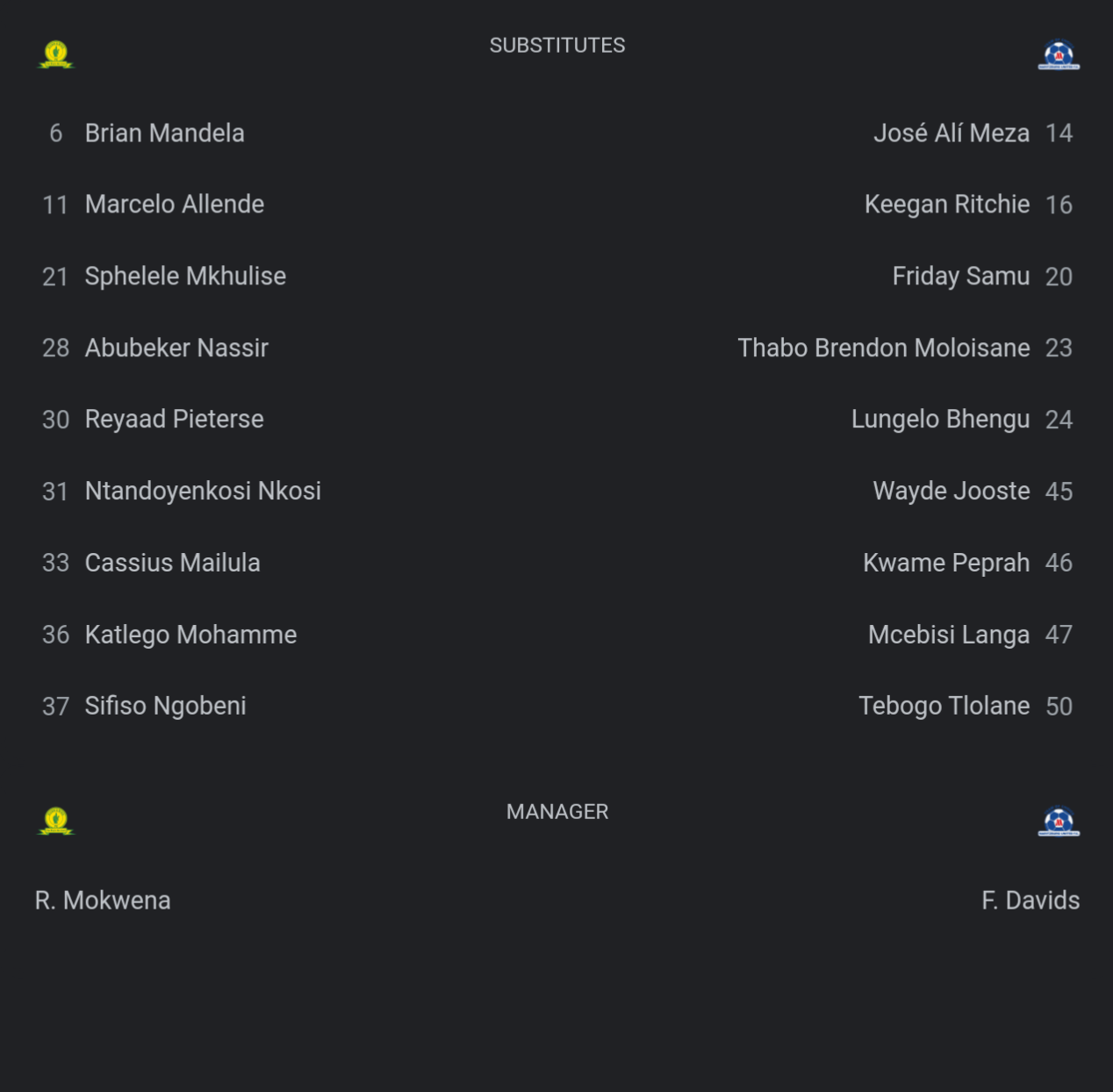 This may be the possible XI:
R. Williams GK
K. Mudau RB
M. Mvala CB
A. Boutouil CB
A. Modiba LB
S. Mbule DM
T. Mokoena DM
G. Sirino AM
T. Zwane RW
B. Ralani LW
P. Shalulile CF
The lineup for Maritzburg United today:
K. Ndlovu GK
T. B. Moloisane RB
R. De Goede CB
B. Makume CB
B. Cross LB
B. Theron RM
R. Human CM
B. Ndengane CM
J. Meza LM
K. K. Karim SF
A. Soukouna CF
Before kickoff, we'll update this page with the actual starting lineup for Mamelodi Sundowns vs Maritzburg United. Above is our predicted lineup while we await confirmation.
Related Posts:
Mamelodi Sundowns Vs. Maritzburg United News
Against relegation-threatened Maritzburg United, Mamelodi Sundowns could field a strong team.
It's Rhulani Mokwena's first Premier Soccer League title as Mamelodi Sundowns' sole head coach, and it's the last game of the season.
Meanwhile, Bafana Ba Style are chasing the record 71 points they set in 2015/16.
With a win against Maritzburg United on Tuesday, Sundowns will finish on 72 points, while the Team of Choice will be relegated to the Motsepe Foundation Championship.
After Alex "Goldfinger" Shakoane's funeral earlier that day, the level of motivation will be high for this game.
On Saturday, Sundowns face Wydad Casablanca in the second leg of the Caf Champions League semi-final, and Mokwena is expected to make a few changes.