Vivo Y12S Testpoint V2026 Mediatek:
Pinout Image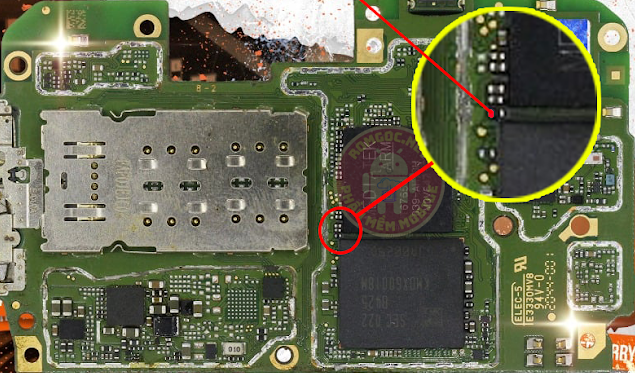 Describe ISP PinOUT. For hardware that has a cross-reference of pins or contacts, ISP, or in-system programming, is often referred to as in-circuit serial programming (ICSP). You can power or signal the logic board (motherboard) of an electronic device, such as a mobile computer, by connecting the pins in a short circuit.
The logic board of your device has a connector for the IS Pinout. To find the pinout, you will need to remove the handset's back panel and follow the instructions in the attached image.
This article will demonstrate the ISP pinout and test point for the Vivo Y12s in their actual form (PD2060F). You may quickly unlock the FRP lock, reset user data, and restore the stock ROM on your device using UFI Box by utilizing the ISP PinOUT. We'll also show you how to reboot into 9008 EDL Mode in this guide.
How to Turn Vivo Y12s EDL Mode On or Off (PD2060F)
To start your device in EDL Mode, carefully follow these instructions (aka Emergency Download Mode)
1st Approach: Using ADB
Extract the ADB and Fastboot Tool to your computer's C:/ Drive.
Link your device to your computer.
Enter the command after opening the ADB command.
Reboot edl using ADB
Method 2: Fastboot.
Extract the ADB and Fastboot Tool to your computer's C:/ Drive.
Start your device's bootloader
Open the command window on your computer and type the command into the same extracted folder (ADB and Fastboot Tool).
: "fastboot OEM edl"
Method 3: Hardware test points and device restoration
Download The QDLoader driver.
On your device, locate the EDL PinOUT/Test Point (refer to the image above to find the test point)
You must short the points using a metal tweezer or conductive metal wire to activate EDL mode.
When you're finished, use a USB cord to connect your device to the PC.
Your device will activate EDL mode in this manner. Open the QFil or QPST Tool at this time to flash the firmware and fix your device.
Tags: Testpoint for Vivo Y12S, Vivo Y12S, Vivo Y12S Test point