Government Selected Students Confirmation
Steps to confirm
Click this link ACKNOWLEDGMENT/CONFIRMATION FORM TO JOIN DAR ES SALAAM INSTITUTE OF TECHNOLOGY (DIT)
Fill your form four index number (Example:S0110/0001)
Fill your birth details (Date, month and year)
Click "

Hakiki

" button to Confirm your selection as government sponsored.
The Dar es Salaam Institute of Technology invites applications from qualified candidates to join the Institute's study programs for the 2022/2023 academic year.
DIT – First Phase Of Applications For Undergraduate Programs 2022/2023
History of Dar es salaam Institute of Technology | DIT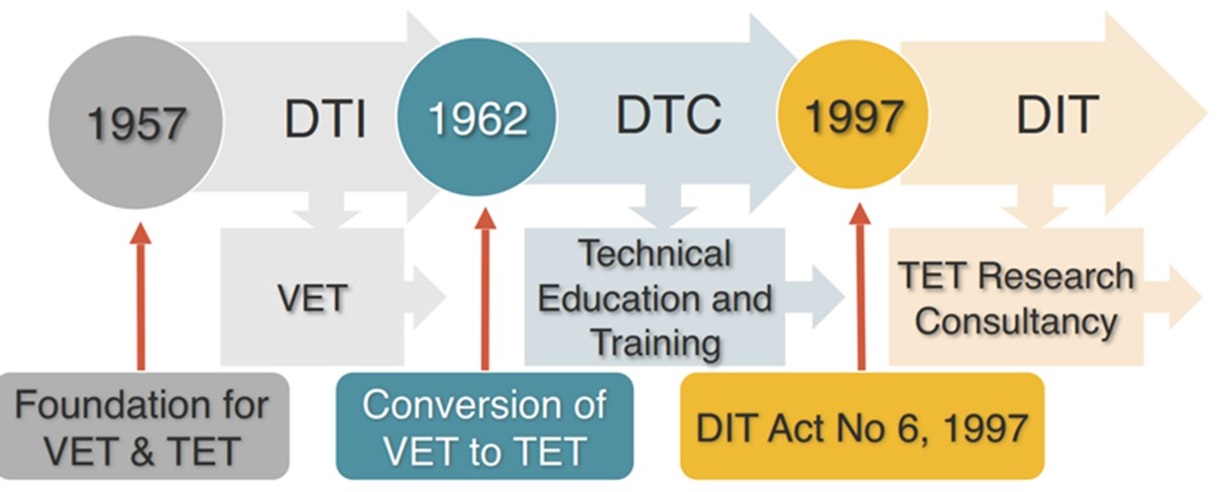 The Dar es Salaam Institute of Technology (DIT) was established in 1997 by Act of parliament as a government institution to replace the Dar es Salaam Technical College, which had provided technical training in Tanzania since 1957.
The objective of establishing the Dar es Salaam Technical Institute in the 1960s was to provide vocational training in the country. The Technical College was founded in 1962 to provide technical secondary school education and Technical Assistant training.
The London City and Guilds Training Program was the primary objective of the College. The OTD (Ordinary Technician Diploma), which took two-and-a-half years to complete, was established in 1964 to enhance the College's contribution to national technical manpower capacity building.
Currently, the institution has three (3) campuses which are; Dar es Salaam Main Campus, Mwanza Campus in Mwanza region and Myunga Campus in Songwe region. The institute offers more than twenty-nine (29) science, engineering and vocational training programs leading to Basic Vocational Certificate, Standard Diploma, Bachelor of Engineering, Bachelor of Technology and Master's degree programs.
Admission Form-University Of Dar Es Salaam-UDSM 2022/2023
Vision Of DIT
To be a leading institution of technical education to meet the needs of society.
Mission Of DIT
To provide technical education through training, research, innovation, and the development of appropriate technology, all in order to provide competence.
DIT organization structure:
The top organ of the DIT is the Council, whose function is to steer the Institute's academic, research, and consultancy activities. The Chief Executive Officer (Principal) is assisted by the Deputy Principal (Academic, Research, and Consulting). The two Deputies (Administration and Finance) are supported by department heads, who supervise teaching, learning, and resource allocation to their respective departments.
The structure:
See also