Jobs at Wanging'ombe District Council
Nafasi Za kazi Wilaya Ya Wanging'ombe | Nafasi Za kazi Halmashauri Ya Wilaya Ya Wanging'ombe 2022
History
Wanging'ombe District is one of the Districts of Njombe Region. It was established in March 2012 before that it was part of Njombe Rural District.
The name Wanging'ombe is derived from the name of the village of Wanging'ombe which is located in Wanging'ombe county.
The headquarters of Wanging'ombe District is located in Igwachanya village in Igwachanya ward.
Wanging'ombe district has an area of 3440.54 square kilometers, with 161816 people according to the 2012 census. The residents of Wanging'ombe district are Wabena, Wakinga, Wahehe and people of different tribes.
Wanging'ombe District has 3 Divisions, 21 Wards and 108 Villages. The ecology of Wanging'ombe District is divided into two groups, there are areas of the cold zone and the warm zone.
As a result of this ecology, the residents of Wanging'ombe are engaged in the cultivation of food crops which are corn, sorghum, round potatoes, sweet potatoes, beans, cassava, groundnuts, wheat, pulses and peas and commercial crops such as coffee, tea, sunflower, pareto and peanuts as well as Animal Husbandry.
Along with agricultural activities, the cattle residents are also engaged in beekeeping, cattle, goat and chicken breeding as well as small businesses.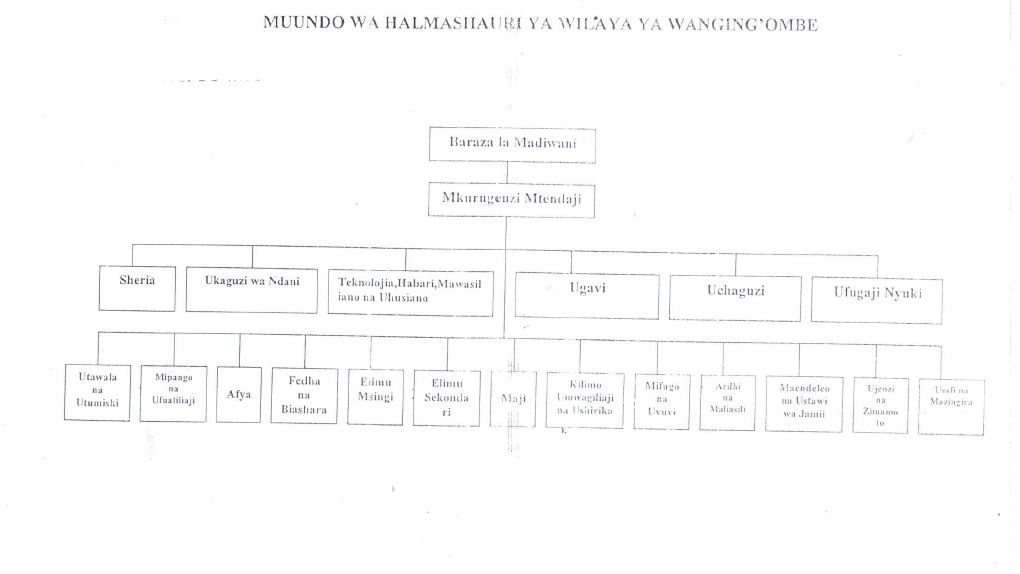 Nafasi Za kazi Wilaya Ya Wanging'ombe 2022 pdf Download
ANNOUNCEMENT OF JOB VACANCIES WANGING'OMBE DISTRICT COUNCIL
The Executive Director of Wanging'ombe District Council welcomes job applications from Tanzanians with qualifications, ability and desire to work in the Wanging'ombe District Council to fill the following positions:-,
DRIVER GRADE II (Nafasi 4)
Applicant Qualifications:
Must be qualified in Form IV with a Class E or C1 driver's license that he has worked for at least one year without causing an accident.
He has attended a basic driving course (Basic Driving Course) offered by the Vocational Training College (VEm) or another College recognized by the Government.
Applicants with Grade II Technical Test certificate will be considered first,
Job Responsibilities,
i. Inspecting the car and after the trip to determine the condition of the car,
ii. Providing employees with remote locations on business trips,
iii, Doing small car repairs,
iv. Collecting and distributing various documents
V. To fill in and maintain all travel information in the travel log
Vi. To clean the car, and
Vii, To do other work as assigned by his Supervisor,
Salary
Based on the Government standards ie TGS B Salary
GENERAL CONDITIONS
Click here for masharti ya jumla ya Kazi, General conditions to the applicants for Nafasi Za kazi Wilaya Ya Wanging'ombe
Note
The deadline for applying for jobs is August 5, 2022
Submit job applications to the Following Address
Mkurugenzi Mtendaji
Halmashauri ya Wilaya ya Wanging'ombe
S.L.P 64,
N]OMBE.
Nafasi Za kazi Wilaya Ya Wanging'ombe
RELATED TOPICS
DRIVER II: 9 POSTS At LATRA 2022
Jobs At Ministry Of Agriculture Tanzania-60 Agricultural Engineer Posts
Nafasi za kazi Halmashauri ya Manispaa ya Mtwara-Mikindani